Organization's Vision Realization
From the strategic planning to announcing the strategy till turning the strategy into projects to be executed. Our Strategy Tracking system is the helping hand to pass through this journey while supporting organizations with these benefits.
Provide an efficient tool for decision making and coordination between all organization's functions and business units.
Enable top management to make rational decisions based on correct information that reflects the organization vision.
Identify the objectives, KPIs, and priorities and assign their relative weights to reflect the organization priorities.
Provide a solid platform for evaluating the organization's performance based on the organization's vision and directions.
Streamline the communications within the organization's business units to increase effectiveness and avoid conflicts.
Execute the strategy and turn it into a reality by managing and tracking the progress of objectives, KPIs, and projects.
Strategy overview
View the top-level strategic objectives' and their strategic and operational score. From this view, the decision maker can drill down to the sub-objectives' details and then to the related key performance indicators (KPIs) or projects.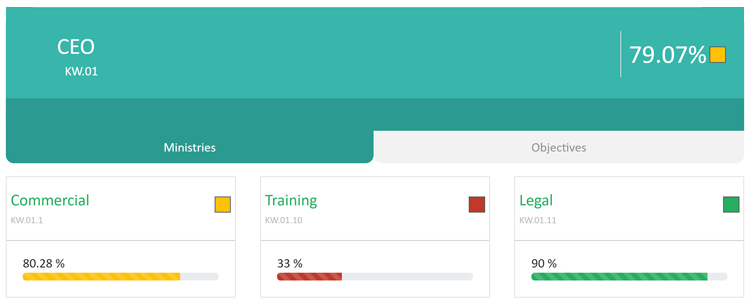 Organization Hub
This view shows the organization's entities with all levels of "Sectors, Divisions and Departments" and their strategic and operational scores. This view provides the following information:
The Unit details
Linked Objectives, KPIs and Projects
Drill down to the lower levels
Communication Hub between the owner and the stakeholders
Objectives Hub
This view shows a list of all main objectives with the related entities, the strategic score, the operational score, the owner, the number of projects, mandates and KPIs linked with this objective. Any objective can then be drilled down to its sub-components and its related components

Key Performance Indicators Hub
The KPI Hub shows a list of all KPIs. With its strategic score and the owning departments. The KPI can then be drilled down to its linked items showing the linked projects.

Project Hub
This view shows all the organization's projects. Projects can be created in the system directly or from the Microsoft Enterprise Project Management system, if available. Projects can be grouped by many all related project's information
Strategy Reports
The system Provides many informative reports that can be produced and extracted to many formats like PDF, Word, Excel, XML and many others. Below are the set of available reports:
Strategy Tracking Reports
Strategic Objectives
Strategic Objectives Grouped by Category
Strategic Objectives Progress Grouped by Sectors
Sector's Progress
Sectors and Departments Progress
Sectors, Departments and Projects Progress
Budget Tracking
Budget Tracking Grouped by Sectors
Budget Tracking Grouped by Sectors and Departments
Project Tracking Reports
Projects' Health
Performance Point
Project Information
Project Executive Summary
Portfolio and Program Tracking Reports
Portfolio Progress
Portfolios and Programs Progress
Portfolios, Programs and Projects Progress
Strategy Dashboards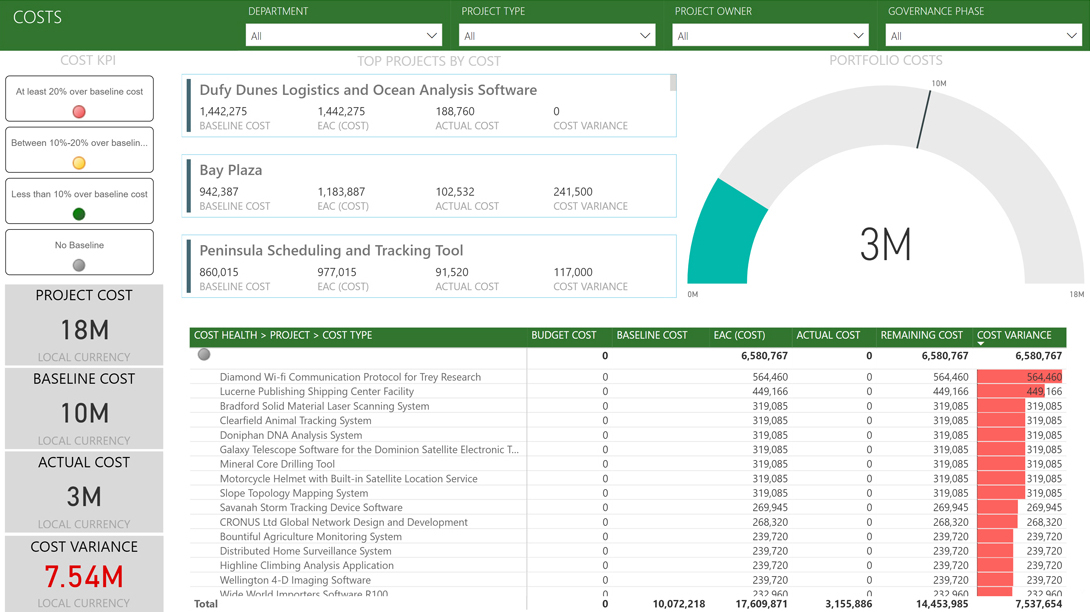 The system provides numerous informative dashboards based on native dashboards and PowerBI, like Overall Strategic Objectives, Individual Strategic Objective, Portfolio and Programs and others